Monday, April 20th, 2009
---
2:04 pm
life has been pretty fantastic. There were 2 horrible weeks where I was hating everyone and everything and just wanting to leave this town and country STAT, but that passed. Logic prevailed and here I am happy happy again.
I've written so many long winding text only posts and not put them up. namely because they're just really long lists of the wonderful meals I've been enjoying at this and that restaurant.I go into what i think the ingredients are, cooking methods, where the produce has come from, and also what memories they evoke (eg 'oh this is like eating the fried fish from that white place on top of a garage on parramatta road, we'd eat there at night times, the lights were neon and the signs painted on butchers paper'. Around about this time, I was also eating lots of 'egg with dog grass' omellettes. Steamed cubes of firm tofu in Maggi soy sauce and rice.)
The more I work, the more I go out and party and, right now (since i'm down 3 days a week) I've been tunnelling into the whole winter movement of home dinners with friends.
Introducing: the supper club (of doom)

Picture Highlights from my facebook album (i am unfortunately an addict. One day i will buy a subscription to flickr and update it instead but until then....)

(supper club 1: pizza and balloons)


more available here

(supper club 2: mexican)


more here


(supper club 3 - this was a bit of a slap bang lets-all-fall-asleep-on-each-other thing as it was after 4 days of working the blues and roots festival in crazy mud and rain)


Got a bit lazy with these ones. some are on my flickr though

Supper club 4 = giant pot of soup + jazz music. pictures coming.


I need to update my wardrobe urgently but my sewing supplies are still at a mates house in sydney. Yes it's been nearly 6 months. I was expecting a delivery last week but it was no-go. Also, I bought for $10 a DIY Dulcimer Kit: ( read up?. Hey! used to be $65! bargain!
Yeah. First I've ever heard of this instrument too. It was from this crazy garage sale where I also picked up a glass soup ladle, and 70s styled clear glass cup/bowls with bulbous bottom legs that look like lopped off soft drink bottles. does that visual even make sense?
A kind guy at the music shop, who has no idea what instrument I have, is going to help me put the dulcimer together. He used to make guitars at the Maton factory :). Someone else is giving me a pickup so I can totally amp it up. And the Hardware shop guy wants to see my results (I've earnt his respect after finally spray-painting my bike, as I'd told him i'd do a few months ago)

Also, I worked for my school (SAE) doing promo at the Blues&Roots Festival. The music was fun but not fantastic, the weather was horrible BUT FESTIVAL FOOD STALLS. OMG YES!?! Chilli hot chocolate, mexican, yeman food, and kofte balls and felafels and blablablablbalbalbla.

I have hardly left my room since waking up. It's 8:40pm now. I've done a few loads of washing. emptied the bins, stained some wood (and my fingers) and folded some clothes, washed my hair, dreamt of popcorn, eaten sushi and soup and grilled corn tortillas.
Next week's supper club is probably going to involve a beach fire and food wrapped in banana leaves, buried in the sand and cooked with coals. Lots of mosquito spray. Unsure if I will bring out the hats and wigs and facemasks incase they catch on fire and everyone gets burnt

umm blablabablablablablbala
Sunday, February 22nd, 2009
---
11:44 pm
- i just got back from work and shdashda8yehwzhcjkhdlhasd;ay;hdaslahs
uuuhhhh here is a stupid nothing post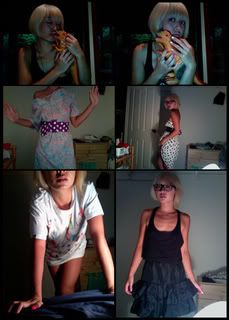 I finished work about half an hour ago and cycled home with an ipod on (first time i've used it in months). Had totally forgotten how good cycling with music is, especially at night. I went round and round in little circles under the lamp near my home and considered cycling back into town to go roll around at the beach and turn myself into a giant sand monster. The prospect of sand monster hair was a bit unbearable though (trying not to dry it out by washing my bleached noggin too much), so I just sped down my driveway and stomped upstairs hoping someone would be home with a whole bunch of glowsticks for me to play with.
Alas. they were not. So instead I put on three outfits and looked at the contents of my fridge. Sat in the dining room, before taking off all my clothes (i'm still wearing undies) and logging onto facebook... ahahaha. facebook. bad. (note. the above photos were from another night)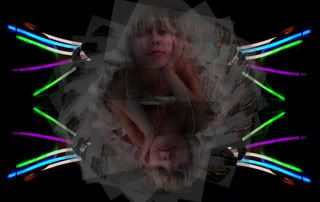 Now I'm considering a shower because my fingers smell like soy and sushi vinegar, and tiredness is starting to hit, but i'd rather rest by floating on a giant inflateable thing in a wonderfully large pool (this does not exist), or being at the beach sleeping on a towel (i did that during my work break and am keen for more - it wasn't sunny but it wasn't cold and dreary. today was perfect. until it started gushing down rain, but i was already back at work by then so it was a-ok).

ANYHOW. the other day i tried on some clothes I had forgotten I owned. there are more but i didnt bother taking photos.

this ABSOLUTE JERK FACE stroked my hair/head today when I was asking them if they would like any drinks (this obviously happened at work). I was incredibly shocked and angry at this invasion of personal space. - who strokes peoples hair? It's worse than touching my shoulder or hand. damned hippies. He was quite conceited and so was his american female dreamy haughty lady friend.I took a step back from him and just glared angrily for a while. Luckily he didn't do it again (if so I would have had to tell him to stop being so creepy). Still. thinking about it makes me so grossed out. URGH. TENDER HAIR STROKE BY STRANGER DANGER = YEUAHDHDAHHFJKFHKSKNCDHCDSJKFHKS!!!
ashdkjahdkhak!!c shdjkhaskdjs!!!

So in the past.. 2.5 hours. I've managed to get a youtube account, emptied my desk drawers to find my beads and sequins to make a glove-bracelet-ring-tassel-all-in-one piece de resistance but then realised i had no threads so then I went and played with my lace/crochet doily collection and though about turning them into gloves when i remembered, once again, that I had no threads to do it with.
and then i looked a the glowstick footage from last night and stuck them together, whilst looking for pictures of a friend so I could draw her a portrait for her bday present, and then my flatmate came home, so I put on some clothes and went out to tell her about my restless wheelies under the street lamp post, my various costume changes, and the jerk who touched my hair.

we drank some rice milk from champagne flutes (the only way to make a sub-standard brand of rice milk taste good), and she fried us up some teriyaki tofu.



alblabalbalbalbabala. I think i need to listen to some calming music and drink a sleepy-time tea and have a shower. i . really. don't. know . why I'm so jittery.
I had a coffee today? ages ago. sayyy.... 7 hours ago. apart from that I've not eaten any 'stimulating' foods.

- one little spring roll
- asparagus and corn wrapped with thin slices of beef, served with bean sprouts and a citrus soy dressing, rice + miso
- strawberry cheescake icecream (1 scoop) on a waffle cone
- water
- mocha
- 2x kingfish nigiri
- 2x seared salmon (belly) nigiri
- seared tuna
- tofu cheese cake (yeah i'm going to get fat)
- tofu teriyaki
- rice milk

okay. it's definitely the music doing it to me. changing playlist now.
Wednesday, January 28th, 2009
---
10:18 pm
- sydney trip and back
So after all the 'i still love you' and the sulky 'you don't msg me anymore you don't care's and the "yay you still like me lalala" scott went off and got himself a gf.
Understandably, I was pretty furious. What sort of twat does that? (asks his ex to get back with him. organises a get together. then starts an official relationship with another girl. meaning he was already seeing her a bit whilst he was msging me). I tell him he's an idiot/I had figured something like this would happen. A week later, I'm in Sydney and get some more random texts from mr ex-bf - "i miss you love".
I tell him he should be missing his gf and not me. He finds it funny and says that he loves me more. I tell him to forget about me and move on. He calls me selfish. I push the name back on him, we argue, I ask him what the whole point of arguing is anyway, since we aren't ever going to get back together. He says "fuck you" and i say the same.
what. a . dildo.
I'm sill waiting for him to delete me off facebook for the 2nd time. He is still giving me facebook pokes. I'm a bit confused but whatever. MOVING ON TO MORE INTERESTING TOPICS LIKE:

1. HOW I HAD MY BAG STOLEN IN SYDNEY
I went out to da-da-dance. I turned my back for 30seconds max and then it was gone (the bag was less than a metre from me. so confusing). I had no money, no id (i lost my wallet a fornight ago so was using my passport as ID), a dying phone. Ran around trying to find my bag. Filed a police report. Sat glumly just as the music improved 10fold to super-danceable-to-able, and then a nice guy with a nice camera gave imi and i a lift back to her place. yay! (i also met an interesting guy who won the Insight 300seconds film comp a few years ago. We tried to meet up whilst i was still in sydney but failed horribly. Ah well. He might be coming up to byron so we can exchange ideas and have more than 5minutes of conversation)


this is imi. she had her bag stolen too. She cut my fringe that night.


2. HOW I WENT OUT THE NEXT NIGHT ANYWAY. AND GOT MY BAG BACK
Alana's bf managed to get me into the club he was DJing at. We took a ferry across the waters to Manly. Nice. We had tapas for dinner. and we went to the beach at 2am for a few hours, followed by a very long walk back to a mates house where we had 4am bruschetta and cubed baked potato things. SO TASTY

3. HOW I HAD THE SAME BREAKFAST 2 DAYS IN A ROW AT FORBES&BURTON
It's only the best cafe ever. and it's only the best brunchy meal ever (two poached eggs, smoked salmon, potato cake, sautéed spinach and caramelised onions), and it's only the best coffee ever...



these white loveheart sunnies were stolen so i bought another pair. My bow tie connects to a tube connects to a squeezy bottle full of liquid. When squeezed, liquid shoots out of the bow tie and onto someone standing in front of me. $2.50 worth of class.

4. I STILL CAN'T STAND MY PARENTS, BUT MY CHILDHOOD WARDROBE HELD SOME GEMS FOR SURE
such as:

I think we were 7 and 9 or something years old when we first wore these babies


we both won these toys at the easter show in 2003. playing the same game (chuck a ball in the giant milk bottle. we both failed to win on subsequent tries.)

Anyhow. Totally exhausted. Front bike wheel is flat. Worked last night and am meant to be going out tonight but can't be bothered/have done no school work at all but I did spend the whole day driving up to Brisbane and back for a teddy bear costume.




p.s. here's a pic from before we left for sydney:
i found a childrens' joker outfit



and a batman one.

Tuesday, January 13th, 2009
---
2:19 am
- hello!
wow, it's taken me more than two months but I made it - I HAVE INTERNET IN BYRON BAY (connected our modem and a wireless router thing and everything!!!)

Just ten minutes ago, I was staring at a possum that was climbing the pine tree outside my window. This afternoon, there was a random cute koala that did a bum dance jig/run to some trees when it saw us (what was it doing at my school? and not on a tree far up high-high-high???)

Anyhow, seeing as the past ummm 3 weeks have been very sleepless for yours truly, here are some 4 pictures that are definitely not a representation of my new life in byron bay.



my room!



i like to eat dinosaurs



i look sort of mean here

oh ps. Scott msged to say he still loves me, but i've sort of lost faith in boys because everytime i like one who has gone apeshit ga-ga over me, he takes it all back, and then i start to freeze them out, and then they come back wanting hugs and kisses and I have to tell them to stop messing with my head/heart.
Either way. I'm visiting hometown sydney (YES! I GET TO EAT SYDNEY FOOD/VISIT FAVOURITE CAFES!) and will meet up (with scott) to see how he is. Apparently scott has a porsche something something. which, not knowing much about cars but having seen the pictures and having been promised a trip to palm beach in it, I'm trying to formulate a good beach-yet-glamour outfit to suite the dark metallic grey convertible-ish automobile. It's very 'picnic'and red lipstick. But i dont think red lipstick is good for the beach. My thoughts keep wandering off y outfit and onto what type of foods and drinks would suit scott's new car. Lame, I know. It's like when I stare at a plate and let it tell me what I should eat.
I sort of went out on a 'date' with this pro surfer guy who, according to my workmate, looks like a ken doll.
She's sort of right. hahahahahahahahahaha. Ken doll bakes his own cookies (i'm so keen to eat them! I asked if he did banana ones and he answered affirmative! YES!!!!!!!!!!!!! TRUE LOVE IS ON THE HORIZON! HAHAHAHA)

Umm. Life is cool I guess, but I still feel like I should quit and go travelling, since my sister isn't getting married til a-long-time-away, and I only went to study film as a way to keep me from going insane for being stuck in australia. I randomly talked to a guy who is he acquisitions manager for the school I go to; he told me the degrees can be transferred to NY or even the new campus they are opening in Tokyo, I just don't know if I'll be able to get the government loans to pay for my studies, as I definitely can't afford them upfront. Shoowop shoowop. Perhaps a stewardess role for emirates is in order? fly fly flyyyy !

pps I'm going blonde. the hair in the pictures above = work in progress.

ppps i realised i didnt actually update lj o say y bf broke up with me 2 weeks into byron bay did I? Well. it happened.
Tuesday, October 14th, 2008
---
12:04 pm
- SURFING 50 STATES PREMIER
PEA-ESS
my mate stefan is having the premier of his film doco 'Surfing 50 states' tomorrow at Cremoyne's Orpheum.. It's about.. ummm surfing the 50 states. of america. including hawwwaaaaaaaiiiiiiii.
There'll be premiers in Melbourne as well.


here is the website :http://www.surfing50states.com/
and heres a trailer: http://www.youtube.com/watch?v=xY7rxFdiJas

Peeps that live in the US of A - it'll be coming round to your area soon too
YIP YIP! :)

Not convinced?
Who can resist watching something made by a guy who is willing to dress like this: ?


woah mumma!
Also, he hooked me up with a ticket to see DIZZEE RASCAL. FREE OF FRIGGEN CHARGE.
I rolled my ankle near the end of the night and it still sort of hurts me now (ankle) but it was well worth it.I AM FOREVER IN DEBT. And he is awesome. We nearly dated but then I decided I liked Scott better. All cool. all cool.